Word Lists & Lessons

Reading Programs
English / Language Arts

Figurative Language
Grammar
Spelling
Vocabulary

Literature
Math
Science
Social Studies

Educational Topics
Product Info
Training & Help
Funding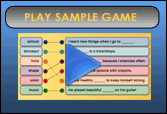 It is at the middle school level that geometry really gets exciting, as applications to the real world become more apparent. Beginning in 6th grade and going through grades seven and eight, middle school students progress from solving problems of volume and surface area to studying the relationships between geometrical figures and then to real-world problem solving using cylinders, cones, and spheres.
The math vocabulary lists are based on the Common Core Middle School Math Standards. VocabularySpellingCity has selected the middle school math words that apply to the key math concepts and written level-appropriate middle school math definitions combined with meaningful example sentences. Middle school students can use these materials for reinforcement to build understanding or assessment. Teachers can import the lists into their account and then edit or extend the lists for their own purposes.
Return to Math Vocabulary Overview.
Common Core State Standards Overview for Middle School - Geometry
Solve real-world and mathematical problems involving area, surface area, and volume.

Draw, construct and describe geometrical figures and describe the relationships between them.
Solve real-life and mathematical problems involving angle measure, area, surface area, and volume.

Understand congruence and similarity using physical models, transparencies, or geometry software.
Understand and apply the Pythagorean Theorem.
Solve real-world and mathematical problems involving volume of cylinders, cones and spheres.

Source: www.corestandards.org
Thanks to the geometry word lists, middle school students can learn all of the specialized geometry terminology they need in a fun and enjoyable way. These geometry lists conform to the Common Core State Standards and can be used with all 20 of the VocabularySpellingCity word games as well as printable worksheets and online quizzes and tests. Learning the fascinating concepts and processes of geometry and its related vocabulary helps concrete applications take shape!

Geometry Math Vocabulary
Words at a Glance:
Sixth Grade Geometry

---
Modelling: integers, acute, cartesian coordinate, inequality theorem, pyramid, simulation, equilateral, prism, geometry, model, rational number
Lines: polygon, similar, line segment, circumference, intersection, equilateral, ray, arc, diagonal, radius
Transformation: translation, symmetry, quadrilateral, tessellation, vertices, horizontal, vertical, supplementary, transformation, rotation
Angles: interior angles, exterior angles, scalene, equiangular, protractor, obtuse, acute, parallel, perpendicular, degrees
Seventh Grade Geometry

---
Geometry: sine, cosine, theorem, tangent, right angle, vector, focus, postulate, proof, scalar, solid, diameter, radius, parallelogram, tessellation, equilateral, circumference, transformation, isosceles, magnitude, sphere, collinear, perimeter, circumscribed, axiom, symmetry, prism, diagonal, chord, rhombus
Eighth Grade Geometry

---
Lines: corresponding, postulate, circumscribed, concurrent lines, axiom, circumcenter, chord, apothem, arc, ray
Angles: pyramid, isosceles, exterior angles, degrees, angle of elevation, equiangular, scalene, protractor, cosine, tangent, sine, central angle, adjacent, supplementary angles, complementary angles, vertical angles, acute, obtuse, right angle, radian
Transformation: rotation, translation, trigonometric, transversal, functions, tangent, reflection, tessellation, translation, symmetry
---
For a complete online Math curriculum in Kindergarten Math, First Grade Math, Second Grade Math, Third Grade Math, Fourth Grade Math, Fifth Grade Math, Sixth Grade Math, Seventh Grade Math, or Eighth Grade Math visit Time4Learning.com.
Here are some fun Math Games from LearningGamesForKids by grade level: Kindergarten Math Games, First Grade Math Games, Second Grade Math Games, Third Grade Math Games, Fourth Grade Math Games, Fifth Grade Math Games, Addition Math Games, Subtraction Math Games, Multiplication Math Games, or Division Math Games.