Paragraph Writing Practice
The standards correlation for this activity is coming soon!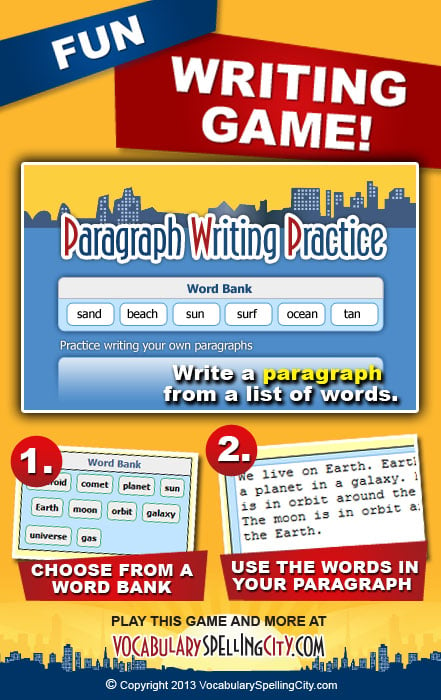 Paragraph Writing Practice allows students to practice writing organized paragraphs using spelling and vocabulary words.
Try Paragraph Writing Practice
with a sample word list!
More Learning Activities & Games
Paragraph Writing Practice Instructions: Paragraph Writing Practice allows you to create and type in a paragraph using your spelling or vocabulary words. Your word list will appear above the text box, and words will be crossed off as they are used. This is a great way to practice your spelling or vocabulary words, as well as constructing a well-written, creative paragraph. Once you click the Done button, you will have an opportunity to review and edit the paragraph you have written. After clicking the Submit button, you may create a PDF to print out for your teacher or parent or save and keep for your records. Paragraphs completed by students of Premium Members will be submitted electronically to their teacher or parent for review and grading upon clicking Submit. Spelling and vocabulary words make for excellent essay writing practice. Premium Member teachers can create paragraph writing prompts and include them in their Assignments instructions for their students! Paragraph Writing Practice is a great way for students to practice writing a topic sentence and a concluding sentence of a paragraph, to help develop their writing skills for standardized tests.