Word Lists & Lessons

Reading Programs
English / Language Arts

Figurative Language
Grammar
Spelling
Vocabulary

Literature
Math
Science
Social Studies

Educational Topics
Product Info
Training & Help
Funding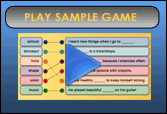 The teaching of high school mathematical functions relates closely to algebra and trigonometry as well as geometry. Functions are one of the most exciting subjects in high school mathematics because they bring students, from the 9th grade to the twelfth, close to real-world reasoning and problem-solving. In situations where one resulting quantity depends on changes in another, math functions help calculate everything from investment interest to the strength of earthquakes. But this fascinating flexibility becomes hard to explore without a firm grasp of the mathematics vocabulary relating to functions.
The math vocabulary lists are based on the Common Core High School Math Standards. VocabularySpellingCity has selected the high school math words that apply to the key math concepts and written level-appropriate high school math definitions combined with meaningful example sentences. High school students can use these materials for reinforcement to build understanding or assessment. Teachers can import the lists into their account and then edit or extend the lists for their own purposes.
Return to Math Vocabulary Overview.
Common Core State Standards Overview for High School - Functions
Understand the concept of a function and use function notation.
Interpret functions that arise in applications in terms of the context.
Analyze functions using different representations.

Build a function that models a relationship between two quantities.
Build new functions from existing functions.

Construct and compare linear and exponential models and solve problems.
Interpret expressions for functions in terms of the situation they model.

Extend the domain of trigonometric functions using the unit circle.
Model periodic phenomena with trigonometric functions.
Prove and apply trigonometric identities.

Source: www.corestandards.org
VocabularySpellingCity provides all the tools high school mathematics students need to build a good foundation in functions terminology. Through entertaining word games based on math-related word lists, they hear and see how functions vocabulary is used in a genuine context. They can use printable worksheets for further word study and assess their progress with online testing. The functions word lists are based on the Common Core State Standards for high school mathematics study. Understanding functions terminology, students can then go on to learn to use functions in almost every aspect of life, from the everyday to the highly mathematical and scientific.

Functions Math Vocabulary
Words at a Glance:
Interpreting Functions: transcendental function, finite, function, critical point, logarithmic function, domain, infinity, linear equation, range, infinite
Building Functions: integral, matrices, matrix, glide reflection, range, oblique, differentials, logarithm, domain, derivative, square matrix, intercept, slope, line graph, point slope form, radian measure, period, symmetry, parallel, variation
Linear, Quadratic, & Exponential Models: distance formula, exponential, first derivative test, fractals, exponent, binomial theorem, Cramer's Rule, derivative, second derivative, integral, logarithm, velocity, linear, slope, quadratic formula, natural logarithm, lateral area, differentiation, hyperbola, parabola
Trigonometric Functions: step function, trigonometric identity, implicit function, trigonometric function, half angle formula, pythagorean, tangent, sine, cosine, double angle formula
---
For a complete online Math curriculum in Kindergarten Math, First Grade Math, Second Grade Math, Third Grade Math, Fourth Grade Math, Fifth Grade Math, Sixth Grade Math, Seventh Grade Math, or Eighth Grade Math visit Time4Learning.com.
Here are some fun Math Games from LearningGamesForKids by grade level: Kindergarten Math Games, First Grade Math Games, Second Grade Math Games, Third Grade Math Games, Fourth Grade Math Games, Fifth Grade Math Games, Addition Math Games, Subtraction Math Games, Multiplication Math Games, or Division Math Games.