Students of free (basic) members can do a lot on VocabularySpellingCity! You can enter your own word list right on the yellow notepad on the home page, then take a Spelling Test, do TeachMe or Play A Game. If your parent or teacher has an account, you can find their word lists by using our Find A List feature!
You can also click on any of the Learning Activities and Games icons that appear on the homepage to play the games. Just choose a word list to get started!
VocabularySpellingCity's Teaching Resources section also includes dozens of word lists that you can use to play not only the free games, but all of our exciting Premium games as well!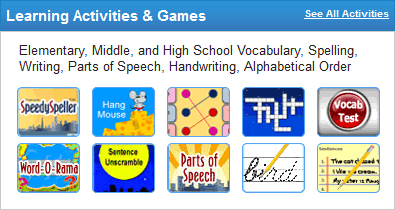 | Common FAQs - Students (Free) | |
| --- | --- |
Do I need to sign up for an account to play games?

No, there is no need for students to register. You can just start typing your list in the yellow notepad on the home page, choose one of our sample lists, or click one of the game icons to get started.
Can I play the Premium games, like Word-O-Rama, if I'm not a member?

Yes – you can sample any of the Premium games by using the lists that appear on the instructions page for each game, our sample lists, or any lists in the Teaching Resources section.
Can my teacher see the scores for the tests that I take on SpellingCity.com?

Unless your teacher is a Premium Member and has given you your own username and password, he/she will not be able to see your test scores. You can, however, print your test results or a certificate once you have completed the test!
Can I save my Writing Practice and finish it later?
No. Unfortunately, you cannot save your Sentence Writing Practice or Paragraph Writing Practice and finish it later unless your teacher or parent is a Premium Member. What you can do is save a PDF of your work so that you don't have to start over from scratch.