Word Lists & Lessons

Reading Programs
Grade Level Lists
English / Language Arts

Figurative Language
Grammar
Spelling
Vocabulary

Literature
Math
Science
Social Studies

Educational Topics
Product Info
Training & Help
Funding
High School Earth Science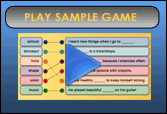 Earth science is often referred to as geoscience or geology. At the high school level, the study of the earth and its neighbors in space is a necessary foundation for any college prep science course. Students need to have an in depth understanding of high school earth science standards to progress in further science study.
Consequently, a cursory study of the high school earth science curriculum will not give students the complete understanding of the subject matter that is needed without a comprehensive study of high school earth science vocabulary. Students can use the targeted earth science vocabulary lists to facilitate their high school earth science word study.
By incorporating fun high school science games, challenging high school science worksheets, and creative writing assignments students can gain the educational advantage that they need to face college science requirements. VocabularySpellingCity makes teaching and learning high school earth science vocabulary a planetary success!
Return to Science Vocabulary Overview.

Earth Science Vocabulary
Words at a Glance
High School Earth Science

---
Energy: elasticity, entropy, mechanical energy, convection, kinetic energy, heat of vaporization, magnitude, nuclear energy, potential energy, renewable resources, electromagnetic waves, endothermic reaction, conduction, fossil fuel, heat of fusion, laws of thermodynamics, magnetic energy, nonrenewable resources, radiant energy, exothermic reaction
Geologic History: glaciers , half-life, radioactive decay , absolute time, big bang theory , paleoclimate , paleomagnetism , pangaea, relative dating, relative time
Geosphere: biosphere, fossil record, hydrosphere, lithosphere, asthenosphere, topography, geosphere, inner core, outer core, core, crust, magma, mantle, aquifer, sinkhole, atoll
Matter: atomic mass, catalyst, chemical bond, chemical change, density, electron configuration, isotope, molecule, radiation, universal solvent
Motion: acceleration, equilibrium, deceleration, force, friction, inertia, momentum, refraction, torque, velocity
Ocean: continental shelf, hydrologic cycle, mid-ocean ridge, sea floor spreading, oceanic crust, gyre, mid oceanic ridge, thermocline, ocean current, bathyal zone, epipelagic zone, longshore current, neap tides, spring tides, contour currents
Plate Tectonics: plate tectonics, rift valley, crust, mid-ocean ridge, continental drift, convergent, divergent, plate boundaries , fault, tsunami, hotspots, sea floor spreading, epicenter, active coast, convergent boundary, divergent boundary, passive coast
Processes: hydrologic cycle, acid rain, atmospheric cycle, global warming, gravitational effects, rock cycle, uniformitarianism, weathering, geochemical cycle, greenhouse effect, convection currents, contour currents, climate, erosion, glaciers, ozone depletion, groin
Rocks & Minerals: cleavage, fracture, half-life, igneous rock, metamorphic rock, mohs scale, radioactive decay, sedimentary rock, superposition
Scientific Inquiry: control group, dependent variable, hypothesis, experimental group, independent variable, qualitative data, quantitative data, research question, scientific method, variable
---
For a complete online Science curriculum in First Grade Science, Second Grade Science, Third Grade Science, Fourth Grade Science, Fifth Grade Science, Sixth Grade Science, or Seventh Grade Science visit Time4Learning.com.
Here are some fun Science Games from LearningGamesForKids by category: Science Songs, Science Videos, Science Experiment Videos, Space Games, Weather Games, or Science Experiment Games.
For more kindergarten learning resources, kindergarten math vocabulary words, kindergarten homeschool curriculum, free kindergarten vocabulary games, free science games, and a school science curriculum.