Word Lists & Lessons

Reading Programs
English / Language Arts

Figurative Language
Grammar
Spelling
Vocabulary

Literature
Math
Science
Social Studies

Educational Topics
Product Info
Training & Help
Funding
| | |
| --- | --- |
| Custom Sentences and Definitions | |
The "Add New Definition and Sentence" and "Edit" features on the Word & Sentence Verification page allows teachers and parents to choose or add alternative sentences for their words, or to add entirely new definitions and sentences to customize the content that appears in games and on tests.
Alternative sentences are useful for words with multiple meanings. Let's assume that a teacher has a word list about climbing which includes "scale." When the teacher looks at the default sentence for scale, the context indicates that the usage is for scale meaning a weighing device: "The scale was used to weigh the food.".
The teacher may either choose from one of VocabularySpellingCity's alternative usages, where they may elect to keep the existing sentence or create a customized sentence such as: "The climbing teacher taught us to scale the wall." or "The map was not drawn to scale." by clicking on Edit to the right of the sentence. These sentences are available for immediate use through voice synthesis technology!
Premium Members also have the option of adding their own definitions and sentences to customize the content of their activities to suit their students' needs!
To try it out, just log in and either edit an existing list or create a new list and save it.
On the Word & Sentence Verification page, you will see at least one definition* and sentence associated with each word recognized by VocabularySpellingCity. For words with multiple usages, the radial is filled in for the default usage. To choose and alternative usage, simply select the radial next to that usage.
You may elect to use one of our definitions, but would prefer to write your own customized sentence for that definition. You can do this by clicking on Edit to the right of the sentence. Click the radial next to "Enter new sentence here," type in your sentence and save it.
Maybe you feel that the given definitions are a bit to advanced for your students, or you would like to customize the definitions to correspond with the word's meaning in the book your class is reading - you can do this too! Simply click Add New Definition and Sentence, type in your new definition and sentence, select a part of speech an save your information. If you are a Premium Member, ALL of this content will appear in your students' activities.
Reminder. When you type a sentence or definition into VocabularySpellingCity, you are contributing it to VocabularySpellingCity. The sentence or definition, with all artistic and financial rights, becomes the property of VocabularySpellingCity with NO future obligations to track contributors, recognize them, or compensate them.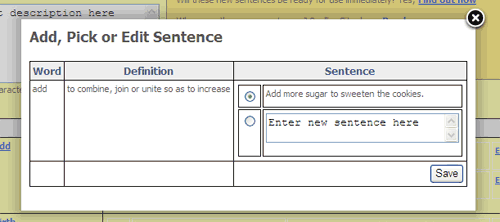 Will these new sentences and definitions be ready for use immediately?
VocabularySpellingCity has implemented a voice synthesis technology (text-to-speech) so that newly-entered content is available immediately.
In most cases, the synthetic voices work very well. In others, the quality is not optional. Please note that slight changes in the sentence might improve the final result.
VocabularySpellingCity will continue to record as many sentences as possible using human voice.
Can I type in a sentence or definition from a book or other source?
If you type a sentence or definition into VocabularySpellingCity, it becomes the property, today and forever, of VocabularySpellingCity, Inc.
If you do not want to "give" your work to VocabularySpellingCity, do NOT type sentences onto our site.
Do NOT type in sentences taken from literature, dictionaries, textbooks, workbooks, or that which have been authored by other people.
What's Next?
In the near future, users will also get to add their own words to VocabularySpellingCity!
Will VocabularySpellingCity keep recording sentences with human voices?
Yes, we expect the vast majority of our sentences to be spoken by a human voice. We try to record a thousand or more every month.
Some of the synthetic voice sentences are hard to understand. Yes, this can be frustrating. We prefer the human voice but are working hard to obtain the best synthetic voices that we can.
If I import a list, do the sentence and definition alternatives move with the list?
Yes.

* Vocabulary content (including definitions, parts of speech, synonyms and antonyms) in user-created word lists is available