Word Lists & Lessons

Reading Programs
Grade Level Lists
English / Language Arts

Figurative Language
Grammar
Spelling
Vocabulary

Literature
Math
Science
Social Studies

Educational Topics
Product Info
Training & Help
Funding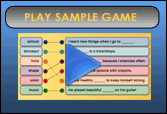 Understanding atoms, protons, electrons, and neutrons… Mixing chemicals… Conducting experiments… Chemistry deals with the intricate behavior and composition of matter. As such, high school chemistry prepares students to meet the vast array of high school chemistry standards, create unique high school science fair projects, and conduct exciting high school chemistry experiments.
The high school chemistry core curriculum includes highly specific chemistry vocabulary presented in high school chemistry lesson plans. From ninth grade chemistry through 12th grade chemistry, students must master these chemistry terms in order to have a comprehensive understanding of high school science. Whether studying for an Advanced Placement science class or a high-stakes standardized science test, students who use a study method that facilitates real-life connection to their assigned chemistry words are most likely to succeed.
A sure-fire way to make these valuable connections in high school chemistry vocabulary study is via online high school science games that allow students to review word meaning, hear correct pronunciation, and practice writing skills. The high school chemistry word lists below are designed to prepare the chemists of tomorrow for success!
Return to Science Vocabulary Overview.

Chemistry Vocabulary
Words at a Glance
High School Chemistry

---
Chemical Properties/pH: buffer, indicator, acid, base, catalyst, chemical property, neutralization, pH, combustion
Chemical Reactions & Principals: balanced equation, law of conservation of mass, law of constant composition, principle of constant proportions, STP, thermodynamics, first law of thermodynamics
Chemical Reactions: Chemical bonds, chemical equation, direct combination, product, reactant, specific heat, stoichiometry, chemical reaction, coefficient, subscript
Compounds: anion, cation, chemical formula, electron affinity, empirical formula, inorganic compound, polar molecule, compound, molecular compound, monatomic ion, covalent bond, gram formula mass, hydrate, ion, ionic compound, molecular formula, molecule, oxidize, polyatomic ion, structural formula
Electronegativity & Radioactivity: anhydrous, polarity, electronegativity, nonpolar, polar, radioactive decay, radioactivity, radioisotope, half-life, dipole
Energy: atmospheric pressure, catalyst, electromagnetic radiation, enthalpy, gas laws, ionization energy, kinetic molecular theory, nuclear fission, partial pressure, equilibrium, combustion reaction, endothermic, excited state, ground state, joule, law of conservation of energy, nuclear fusion, photoelectric effect, synthesis reaction, voltage, energy, entropy, exothermic, ideal gas, Kelvin , melting, nuclear reaction, specific heat, thermochemistry, calorimetry
Motion: condensation, covalent bond, decomposition reaction, diffusion, dipole, dipole interaction, dispersion force, double displacement reaction, hydrogen bond, ionic bond, metallic bond, polar covalent bond, single covalent bond, single displacement reaction, triple covalent bond, van der walls force, kinetic theory, lattice, polar, nonpolar
Periodic Table: chemical symbol, element, group, mass number, period, periodic law, periodic table, periodic trend, family, chemistry, metalloid, halogen, noble gas, nonmetal, alkaline earth metal, oxidation number, semi-metal, transition metal, valence electron, alkali metal
Physical Properties of Matter: absolute zero, boiling point, distillation, freezing point, heat capacity, Kelvin, physical property, resistance, vaporization, volume, diffraction, phase, plasma, buoyancy, density, deposition, gravitational potential, molar mass, molar volume, refraction
Scientific Inquiry: actual yield, dimensional analysis, expected yield, gram, liter, meter, metric system, percent yield, SI unit, significant digit
Solutions: aqueous, heterogeneous, homogeneous, solubility, solute, solution, solvent, suspension, composition, colloid, immiscible, miscible, mixture, precipitate, hypertonic, hypotonic, cohesion, isotonic, insoluble, soluble
The Atom - Atomic Theory: atom, atomic mass, atomic number, atomic radius, atomic theory, Avogadro's number, mole, principal energy level
The Atom - Subatomic Particles: electron, neutron, nucleus, octet rule, orbital, proton, electron cloud, valence electron, subatomic, electron configuration
---
For a complete online Science curriculum in First Grade Science, Second Grade Science, Third Grade Science, Fourth Grade Science, Fifth Grade Science, Sixth Grade Science, or Seventh Grade Science visit Time4Learning.com.
Here are some fun Science Games from LearningGamesForKids by category: Science Songs, Science Videos, Science Experiment Videos, Space Games, Weather Games, or Science Experiment Games.
For more kindergarten learning resources, kindergarten math vocabulary words, kindergarten homeschool curriculum, free kindergarten vocabulary games, free science games, and a school science curriculum.