Word Lists & Lessons

Reading Programs
Grade Level Lists
English / Language Arts

Figurative Language
Grammar
Spelling
Vocabulary

Literature
Math
Science
Social Studies

Educational Topics
Product Info
Training & Help
Funding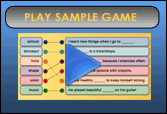 Biology is the study of life. Just as life itself comes in many forms and sizes, biology is taught on many levels within the high school science curriculum. Whether in introductory biology 101 classes or advanced placement biology courses, high school biology is greatly enhanced with hands-on lab activities. However, this only compounds the sheer number of biology vocabulary words students encounter.
The exploration of each life form comes with a new set of structures, functions, and descriptors, and each is necessarily expressed by a new word or altered definition. Unlike high school biology books which introduce a plethora of words in each chapter, the comprehensive biology word lists below are presented in digestible sections.
The corresponding engaging and enjoyable online biology vocabulary activities and games allow students to review and retain high school biology terms and concepts. Fortification of the biology terminology via VocabularySpellingCity's printable worksheets empowers students to see past intimidating words and explore the wide open world of biology. These biology vocabulary lists cover all levels of high school biology instruction and aim to help students to develop a love of learning for life!
Return to Science Vocabulary Overview.

Biology Vocabulary
Words at a Glance
High School Biology

---
Anatomy: bone marrow, joint, ligament, tendon, gastrovascular cavity, brain, hypothalamus, nerve, neurons, endocrine system, brain stem, cerebellum, cerebrum, dendrites, motor neuron, reflex, sensory neuron, spinal cord, synapse, thalamus, alveolus, capillary, cardiovascular, diaphragm, endocrine gland, heart, muscle tissue, placenta, valve, lungs
Body Plan: asymmetrical, bilateral symmetry, body cavity, body plan, cell, organ, organ system, tissue, curve, nervous system
Body Systems: central nervous system, circulatory system , closed circulatory system, muscular system, open circulatory system, reproductive system, nervous tissue, peripheral nervous system, connective tissue, lymph
Cell Biology: cytoskeleton, vesicle, lysosome, ribosome, cellular respiration, exocytosis, flagellum, meiosis, mitosis, multicellular
Cell Biology - Membranes: concentration gradient, diffusion, hypertonic, hypotonic, isotonic, neurotransmitter, osmosis, passive transport, receptor, receptor protein, active site, resting potential, sodium-potassium pump, target cell, membrane potential
Cell Biology - Parts of the Cell: vacuole, cell membrane, chromosome, cilium, endoplasmic reticulum, golgi apparatus, mitochondrion, nucleus, organelle, cytoplasm
Cell Biology - Plant Cells: cell wall, chloroplast, chlorophyll, photosynthesis, vacuole, biology, pigment, cell
Cell Biology - Proteins: protein, protein synthesis, ribosome, exocytosis, mitochondrion, amino acid, ATP, enzyme, transcription, translation, ribosomal RNA, RNA, RNA polymerase, transfer RNA, messenger RNA, mitochondrial DNA
Earth: pangea, plate, tectonics, fossil record, gradualism, isolation, paleontology, divergence, coevolution, nutrient cycle
Ecology: abiotic, biodiversity, ecological succession, ecology, nitrogen cycle, transpiration, biotic, competition, biome, population model, aggregation, behavior, population density, biological sucession, colonial organism, dispersion, dynamic equilibrium, exponential growth, homeostasis, pioneer species, carrying capacity, population, nitrogen fixation, population growth curve , population size, adaptation, logistic model, niche, primary succession, secondary succession
Ecology - Trophic Levels: autotroph, energy pyramid, food web, heterotroph, parasitism, predation, trophic level, mutualism, primary consumer, secondary consumer, symbiosis, biomass, food chain, herbivore, omnivore, parasite, predator, competition, producer, commensalism
Embryology: blastula, ectoderm, endoderm, fertilization, gestation period. meiosis, mesoderm, mitosis, reproduction, gamete, zygote, differentiation, external fertilization, hermaphrodite, homologous structures, internal fertilization, ovum, placenta, reproductive system, sexual reproduction
Environmental Hazards: acid rain, biological magnification, CFC, factor, fossil fuel, greenhouse effect, nonrenewable,renewable resource, CO2, sulfuric acid
Environmental Science: coal, aquifer, biogeochemical cycles, climate, global warming, greenhouse gas, ozone, resource, substrate, smog
Evolution: analogous structures, competition, convergent , directional selection, divergent, evolution, gene, genetic drift, nonrandom mating, speciation, Charles Darwin, competitive exclusion, convergent evolution, differentiation, divergent evolution, gene flow, natural selection, sexual selection, stabilizing selection, reproductive behavior
Genetics - DNA: autosome, sex chromosome, DNA, DNA polymerase, DNA replication, allele, genetic diversity, gene, RNA, nucleic acid, nucleotide, complementary base pair, crossing-over, codon, base-pairing rules, deoxyribose, homologous chromosome, cloning , genome, double helix, clone, genetic code, karyotype, homologous
Genetics: autosome, sex chromosome, DNA, DNA polymerase, DNA replication, allele, genetic diversity, gene, RNA, nucleic acid, nucleotide, complementary base pair, crossing-over, codon, base-pairing rules, deoxyribose, homologous chromosome, cloning , genome, double helix, clone, genetic code, karyotype, homologous
Matter: acid, atom, base, catalyst, compound, covalent bond, ion, ionic bond, element, solution
Energy: cellular respiration, ATP, mitochondria, photosynthesis, glycolysis, glucose, metabolism, chlorophyll, Krebs cycle, electron transport chain
Microbiology: aerobic, anaerobic, binary fission, asexual reproduction, eukaryote, exponential growth, fermentation, plankton, prokaryote, protist
Physiology: carbohydrates, catalyst, enzyme, glycolysis, hormone, lipid, metabolism, protein, respiration, Physiology
Scientific Inquiry: dependent variable, electron microscope, genetic engineering, independent variable, plasmid, recombinant DNA, scanning tunneling microscope, transformation, vector, pathogen, cell theory, electrophoresis, human genome project, light microscope, observation, prediction, resolution, scientific method, transgenic animal, virulent, control group, DNA, gene cloning, hypothesis, magnification, pH, probe, restriction enzyme, theory, vaccine
Taxonomy: analogous, binomial nomenclature, biodiversity, ectothermic, taxonomy, exoskeleton, hydrostatic skeleton, invertebrate, vertebrate, analogous structures, class, family, genus, Linnean taxonomy, order, phylum, species, subspecies
---
For a complete online Science curriculum in First Grade Science, Second Grade Science, Third Grade Science, Fourth Grade Science, Fifth Grade Science, Sixth Grade Science, or Seventh Grade Science visit Time4Learning.com.
Here are some fun Science Games from LearningGamesForKids by category: Science Songs, Science Videos, Science Experiment Videos, Space Games, Weather Games, or Science Experiment Games.
For more kindergarten learning resources, kindergarten math vocabulary words, kindergarten homeschool curriculum, free kindergarten vocabulary games, free science games, and a school science curriculum.