Frequently Asked Questions
Getting Started
Teachers & Parents
Students
Premium Membership
Account Administrator
Technical Help
Assignment Progress allows Premium Members to review students' progress on Assignments. Activities within Assignments may also be manually marked as "complete" or "incomplete". This allows students to be excused from certain activities or requires them to repeat activites for extra practice.
To view Assignment Progress:
1. Log into your account.
2. Select Assignments from your Toolbox.
3. Select Assignment Progress.
4. Select the detail you wish to view.
Selecting Show Viewing Options allows users to filter the information displayed in the Assignment Progress section. Here, they can choose to view specific Assignments, view progress for only certain students, view only complete or incomplete assignments, and choose whether the information is displayed by student name or username.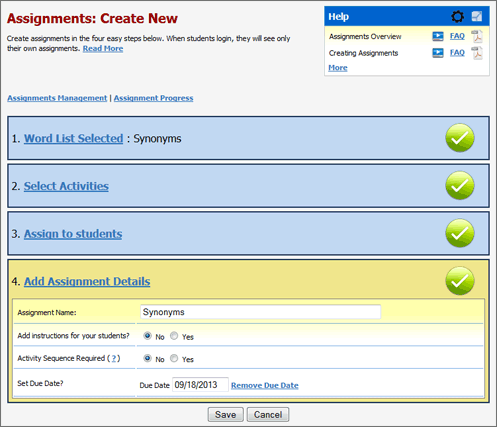 | Common FAQs - Assignment Progress | |
| --- | --- |
How do I excuse a student from a particular activity?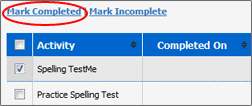 You can mark activities complete, allowing students to move on through their assignments. To do so, find the student you wish to excuse from an activity in Assignment Progress. Click on the progress bar for the Assignment that you want to mark activities as complete. Check off the activity or activities you want to mark as complete and click the link "Mark Completed."
Several of my students say that they completed activities, but they are not being marked as completed. What could be causing this to happen?
Please make sure that your students are logging in using the correct usernames and passwords. Also, make sure that the activities are being completed from within the green Assignments box. Please note that some games, like HangMouse and LetterFall can take a long time for (especially younger) students to complete if your list contains more than 10-15 words. This could cause the game to time out, resulting in the activity not being marked as complete. If you need to, you can mark the activity as complete by following the instructions above.