Premium Members can create customized assignments for individual students, groups of students, or an entire class.
In order to create an assignment, you must first have lists saved on your List Management page and you must also have students added to your account.
To create a new Assignment, select Assignments from your Toolbox, then click the Create A New Assignment link. Select A Word List and choose the list you want to use for the assignment. Then Select Activities you want your students to complete using that list. Each selected activity will appear in the box to the right, where you can also reorder or delete that selected activity by placing your cursor over the activity.
If you frequently assign the same activities, you can save your selected activities as a Preset for easy access the next time you create an assignment. To do so, once your activities have been selected, click Save as Preset and name your Preset.
Assign to Students allows you to select which students you would like to complete the assignment. You can choose your entire class, select groups, or individual students. Name your assignment (it will automatically be named the same as your list name), add custom instructions if you wish, choose whether you want to your students to complete the activities in the order assigned, and even set a due date.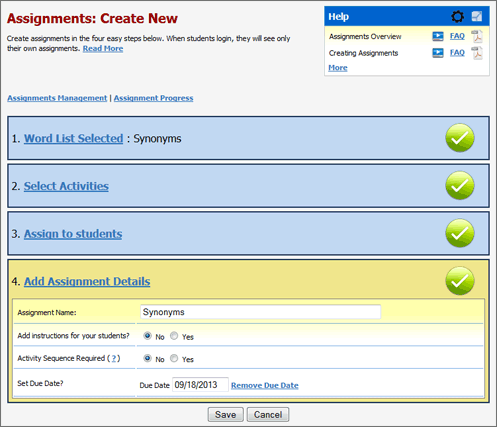 | Common FAQs - Creating Assignments | |
| --- | --- |
Do students have to complete the activities in the order assigned?

No, you can choose whether you want your students to create the activities in the order assigned or whether they can complete the Assignment in any order. When creating an assignment, under Step 4, select "No" next to "Activity Sequence Required" if you'd like to allow your students to complete activities in any order. If you would like to make this option the default for ALL assignments, you may do so by clicking on the black gear in the upper right corner of the Assignments section of your account. Then, uncheck the box next to "Activity Sequence Requirement".
Can I create an Assignment using an unpublished list?
Yes, both published and unpublished lists may be used to create an assignment.
My students use the iPad app to complete Assignments. Is there a way to ensure that all of the activities I choose are compatible with the app?
Yes, when creating an assignment, under Select Activities, you will notice an icon next to each activity that is not available on mobile devices. This makes it easy to ensure that all activities assigned may be completed through the app.
I just added a new student to my class and she is not seeing the Assignment I created for my class when she logs in. Why is this happening?
Please note that if a new student is added to your account after an Assignment has been created and saved, you will need to edit the assignment, select Edit Assigned Students, and check off the new student's name. She will then have access to the assignment when she logs in.
Can change my assignment once I have saved it?

Yes, you can edit any part of your assignment as long as no students have started the assignment. Keep in mind, however, once a student has started the assignment, you will only be able to edit the students, assignment name, instructions and due date of a saved Assignment.