| | | |
| --- | --- | --- |
| VocabularySpellingCity's Mobile Apps | | |
VocabularySpellingCity's app for the iPad/iPhone/iPod Touch

became available in summer 2012. Download it for free from the App Store by clicking

here

! We welcome your feedback and suggestions!

Contact us

and let us know what you think! Once you've had a chance to check out the app for yourself, sign in with your Apple ID, and

write a review

of our app!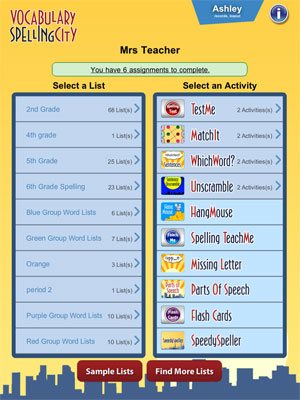 Details on our iPad/iPhone/iPod Touch App
VocabularySpellingCity's app for Apple devices includes the following learning games, available free to all users: Spelling TestMe, HangMouse, TeachMe, Sentence Unscramble, Word Unscramble, Missing Letter, Alphabetize, Audio Word Match
Premium Members can log in and get access to the following additional games: Vocabulary TestMe, MatchIt Sentences, WhichWord Sentences, FlashCards, MatchIt Definitions, WhichWord Definitions, Parts of Speech, Word-O-Rama, Speedy Speller, and Sentence and Paragraph Writing Practice.
Both free and Premium Members can log in through the app for easy access to their lists! Students of Premium Members can complete their assignments and parents and teachers also have easy access to their student records through the app. Premium students assigned to multiple teachers' classes have the option to select the teacher whose assignments they wish to complete through the app.
VocabularySpellingCity - At School, At Home and On the Go!
VocabularySpellingCity is an educational tool that fosters a school-home connection! Students of VocabularySpellingCity Premium Members can log into their accounts and access their teachers lists and assignments from virtually any device - desktop computers, laptop/notebook computers, tablets, iPads, iPhones, and Android phones - at school, at home and (thanks to our mobile apps) on the go! With VocabularySpellingCity, students can improve their literacy skills anywhere, at any time for less than $2 per student annually! For more information on school/district Premium Membership, please click here.
Enjoy the apps!