Word Lists & Lessons

Reading Programs
English / Language Arts

Figurative Language
Grammar
Spelling
Vocabulary

Literature
Math
Science
Social Studies

Educational Topics
Product Info
Training & Help
Funding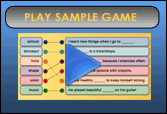 With high school algebra, students enter a realm of complex mathematical computation. To succeed, they need a firm grounding in high school algebra terminology. A high school student in the ninth grade confronts equations and symbols manipulated with arithmetic operations, while a 12th grade student advances to the analysis and use of functions. Understanding the relations of numbers and symbols, the algebra operations performed with them, and their expression in graphs provides grounding for using algebra in science.
The math vocabulary lists are based on the Common Core High School Math Standards. VocabularySpellingCity has selected the high school math words that apply to the key math concepts and written level-appropriate high school math definitions combined with meaningful example sentences. High school students can use these materials for reinforcement to build understanding or assessment. Teachers can import the lists into their account and then edit or extend the lists for their own purposes.
Return to Math Vocabulary Overview.
Common Core State Standards Overview for High School Algebra
Extend the properties of exponents to rational exponents
Classify numbers as rational or irrational

Reason quantitatively and use units to solve problems

Perform arithmetic operations with complex numbers
Represent complex numbers and their operations on the complex plane
Use complex numbers in polynomial identities and equations

Represent and model with vector quantities.
Perform operations on vectors.

Source: www.corestandards.org
Through entertaining high school algebra word games, word lists, and printable worksheets that conform to the Common Core State Standards, VocabularySpellingCity helps students understand algebra vocabulary in context. This thorough knowledge of terminology allows high school students to manipulate algebraic structures and solve systems of equations. High school algebra may be complex, but learning algebra terminology inside and out makes the work much easier, helping students prepare for the day they'll be planning those space walks or shaping those new hydro dams.

Algebra Math Vocabulary
Words at a Glance:
Seeing Structure in Expressions: factor, square, quadratic, expression, coefficient, product, rewrite, minimum value, quantity, maximum value, manipulation, equivalent, permutation, geometric sequence, common ratio, sequences, Fibonacci, series, derive, factorial
Arithmetic with Polynomials & Rational Expressions: integer, expansion, graph, rational expression, rational number, binomial theorem, polynomial, factor, order of operations, coefficient, arithmetic, binomial, trinomial, monomial, solutions, absolute value, algebraic, combination, synthetic division, algebra
Creating Equations: graph, inequality, function, variable, rational function, linear function, coordinate axes, equation, quadratic function, solution, disjunction, domain, range, finite, conjunction, parabola, algebra, parent function, complex number, infinite, sequences, qualitative data, piecewise function, quantitative data, rational, rational expression, regression equation, frequency, radicand, real number
Reasoning with Equations & Inequalities: quadratic formula, inequality, real number, variable, equality, rational equation, matrix, complete the square, plot, simple equation, ordered pair, exponential, linear equation, solution, square root, factor, quadratic equation, coordinates, inverse, intersection, interval, domain, qualitative data, range, complement, quantitative data, proportion, compound, compound interest, solutions
---
For a complete online Math curriculum in Kindergarten Math, First Grade Math, Second Grade Math, Third Grade Math, Fourth Grade Math, Fifth Grade Math, Sixth Grade Math, Seventh Grade Math, or Eighth Grade Math visit Time4Learning.com.
Here are some fun Math Games from LearningGamesForKids by grade level: Kindergarten Math Games, First Grade Math Games, Second Grade Math Games, Third Grade Math Games, Fourth Grade Math Games, Fifth Grade Math Games, Addition Math Games, Subtraction Math Games, Multiplication Math Games, or Division Math Games.