Frequently Asked Questions
Getting Started
Teachers & Parents
Students
Premium Membership
Account Administrator
Technical Help
| | |
| --- | --- |
| There are several ways to add students to your account. You can upload students one at a time, by batch entry, upload your students' information from a CSV file, or if you are uploading multiple classes of students, contact us at sales@SpellingCity.com to learn more about our Student Bucket Upload feature. | |
To add students to an individual classroom or family account, log into your account and select Students from your Premium Toolbox.
Select the Add Students link and follow the instructions for the options available to you. Please note that if your school or district has utilized our Student Bucket feature, you will have the option of selecting your students from the bucket.
You will need to assign a unique username* for each student. Although first and last names, grade level, and passwords are optional, we recommend that you add names for your students, as this will make your student's records, test results, and reports much easier to read. Also, please note that if do not create a password, one will be automatically generated for each of your students. Please note that passwords do NOT have to be unique - all students can have the same password.
*Generally, our system cannot have the exact same username for more than one student. If a username is entered that is already used, a number will be automatically appended to the end of the username. We now offer a new feature to schools and distrcts that allows account administrators to enable a "School ID," which requires that usernames be unique to only their school or district. For more information about enabling School ID, contact us at 954-357-1150.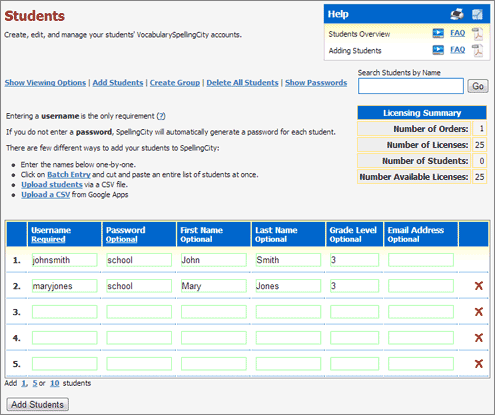 You can edit any your students' information at any time.
You can print a personalized welcome letter for each student containing his/her username and password, explaining how the site works OR you can simply print out a sheet of small slips containing only each student's login information. From your Students tab, click the printer icon in the Help box, then select "Print Student Welcome Letter Home." From here, you can print a welcome letter OR print only the username and password for select students or for all students.
| Common FAQs - Adding Students | |
| --- | --- |
I added my students, but when I logged back in, they were gone! What happened?
You MUST click the Add Students button at the bottom of the table after entering your students' information in order to save it to your account.
I accidentally deleted one of my students and now the username is unavailable, can I get it back?

If you delete any students from your account, their records cannot be retrieved and their usernames can only be reused if they haven't been taken by another member.

How can I retrieve my students' usernames and/or passwords if I've forgotten them?

You can view your students' login information anytime by selecting Students from the Premium Toolbox. To view passwords, be sure to click the Show Passwords link. If you need to change any of this information, simply click the Edit link next to the student's name.

My school used the Student Bucket upload, but I've gotten new students, can I add them to my account myself?

No. If your school has a Student Bucket, it is best to have the new students added to the bucket, then you can choose them from the bucket through your account.