Sentence Unscramble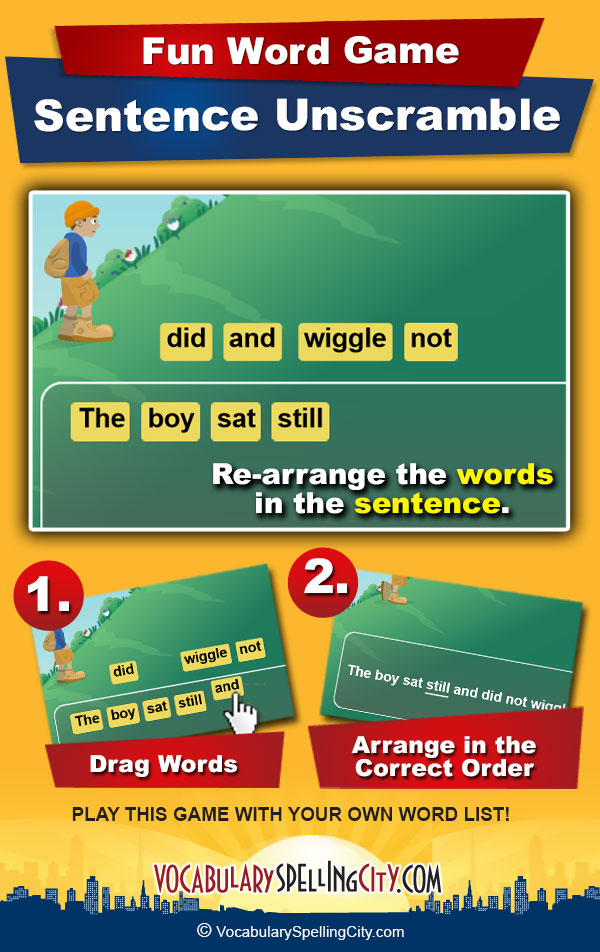 Sentence Unscramble provides students with the opportunity to arrange spelling and vocabulary words to make a contextually correct sentence.
Try Sentence Unscramble
with a sample word list!
Bloom's Learning Objective
Following the classifications within Bloom's Taxonomy, Sentence Unscramble can help students remember, understand, and apply their new list of words.
Sentence Unscramble Instructions: The object of Sentence Unscramble is to place the words in the correct order to form a complete sentence. You may click the words in order or click and drag them into the box. To rearrange the words within the box, simply click on the word you wish to move and drag and drop it into its new position. Click the Hint button to hear the sentence read aloud. Sentence Unscramble is available as an online sentence anagram activity or you may create a printable Sentence Unscramble worksheet. Sentence Unscramble is very similar to our word jumble activity Word Unscramble, except instead of rearranging letters to form a word, in this sentence jumble activity, you rearrange words to form a complete sentence.