Start by entering your words.
Then select an action button below.
Helpful Hints
Finding Word Lists
Contains thousands of ready-to-use word lists by subject and/or grade level like:
Use Advanced Search to the right to search for your teacher's or parent's word lists by their name, by list name, by your school's zip code, or use the geographic directory to find your school's homepage.
Locate other teachers and schools on the same page
You can find the names of other registered teachers at your school at the bottom of your personal homepage. From your school's homepage, you can see the names of other local schools in your area.
Find A List
---
| | | |
| --- | --- | --- |
| » | | United States |
»

United States Territories

---
Featured Vocabulary and Spelling Lists
Featured FAQ - Printable Worksheets


Did you know...
that almost all of
VocabularySpellingCity's games are printable?
Click
here
to learn more!
VocabularySpellingCity is introducing a
Summer Study Program
for families.
Learn more
.
Elementary, Middle, and High School Vocabulary, Spelling, Writing, Parts of Speech, Handwriting, Alphabetical Order
VocabularySpellingCity.com has:
Teachers: We have Parent Letters available as a PDF for you to print and send home with your students' spelling word lists.
Premium Membership

Affordable classroom and family plans
Make Word Study Fun and Efficient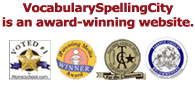 VocabularySpellingCity.com wants to make our spelling website an invaluable part of every child's spelling and vocabulary education. To help us keep improving our vocabulary & spelling games:
Link to VocabularySpellingCity from your school website, homeschool blog, or list of online learning resources.
Tell your colleagues and friends, write a review for a teachers group, or forward our newsletter.
Participate in the VocabularySpellingCity forum. Share lists that you've posted, discuss your experiences on using the site, and make suggestions for new features or spelling games.
VocabularySpellingCity.com shares technology with a vocabulary website. VocabularySpellingCity is grateful to Time4Learning.com (homeschooling curriculum, afterschool online study) and Time4Writing.com (teaching writing) for their support. VocabularySpellingCity recommends the following keyboarding games.