3rd Grade Vocabulary and Spelling Word Lists
VocabularySpellingCity offers a wide range of free third grade spelling and vocabulary word lists. Teachers can choose from hundreds of word lists to assign engaging, interactive games in phonics, spelling, or vocabulary. VocabularySpellingCity also provides activities and printable worksheets to supplement the third grade language arts curriculum.
Third grade spelling lists include Dolch and Fry sight word lists; word structure lists (contractions); and VocabularySpellingCity's beginning spelling curriculum, which is aligned to the research of Irene Fountas and Gay Su Pinnell. Third grade students can practice grade level literacy skills, like compound words, through the use of VocabularySpellingCity's interactive online games.
Third grade vocabulary lists are also available on VocabularySpellingCity. Vocabulary lists include antonyms and synonyms; homophones and homonyms (multiple meaning words); and third grade content specific lists. Content area vocabulary covers concepts, such as third grade science (matter, motion, and scientific inquiry) and third grade math (fractions, base ten, and weight/volume).
Third Grade Vocabulary Instruction
Third grade marks the transition from primary elementary grades (K-2) into intermediate elementary grades (3-5). The third grade curriculum focuses on students developing a deeper understanding of words in text. Teachers need to develop word study lessons with more mature vocabulary in order to meet the English Language Arts curriculum standards. VocabularySpellingCity offers third grade leveled vocabulary and spelling lists to support the third grade state standards.
In third grade, students should have command of grade level appropriate sight words. VocabularySpellingCity has compiled Dolch and Fry sight word lists that can be imported and used with games, such as LetterFall or SpeedySpeller, to build sight word mastery.
Third grade students should be able to read and comprehend informational text with domain-specific vocabulary. VocabularySpellingCity offers vocabulary lists in the third grade content areas of math, science and social studies. Moreover, many informational text vocabulary lists are available. Informational text vocabulary lists are aligned to terms found in the most popular informational books, such as Throw Your Tooth on the Roof. Vocabulary words can be paired with games like WhichWord? Definitions and Word-O-Rama, where students match words to their definitions.
In addition, third grade students should be able to use context to determine the meaning of multiple-meaning words. VocabularySpellingCity offers several third grade multiple meanings word lists (homonyms). Third grade teachers can assign MatchIt Sentences to build contextual meaning of vocabulary words.
Third grade educational standards that are supported by VocabularySpellingCity.
Choose your educational standard. Then choose grade 3.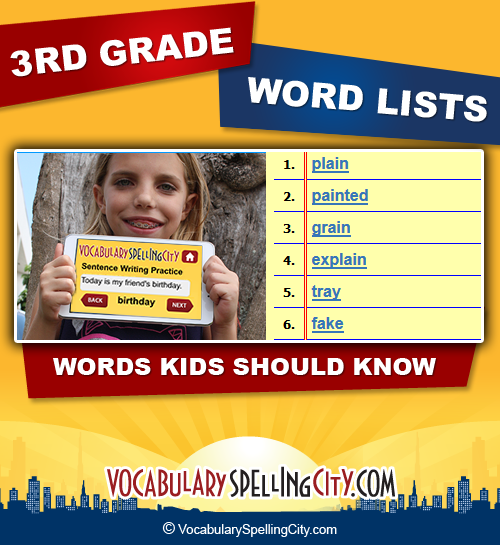 Select a link below to view available 3rd grade word lists:
THIRD GRADE READING PROGRAMS
Import third grade word lists for spelling, high frequency words, or vocabulary for each unit as organized in popular reading programs.

THIRD GRADE SPELLING
Import third grade high-frequency word lists, as well as spelling word lists aligned with Irene Fountas' and Gay Su Pinnell's K-3 spelling continuum.

THIRD GRADE VOCABULARY
Import third grade vocabulary word lists.

THIRD GRADE – OTHER SUBJECTS
Import third grade content-specific vocabulary lists.
The following games are among the most popular and recommended for 3rd graders.